To help local farmers market their wares and turn Dubai's rural districts into popular tourist spots, the city's master plan will create a unique character for each neighborhood. The Master Plan for the Development of the Dubai Countryside and Rural Areas was sanctioned by Sheikh Mohammed bin Rashid Al Maktoum, Vice President and Prime Minister of the United Arab Emirates and Ruler of Dubai.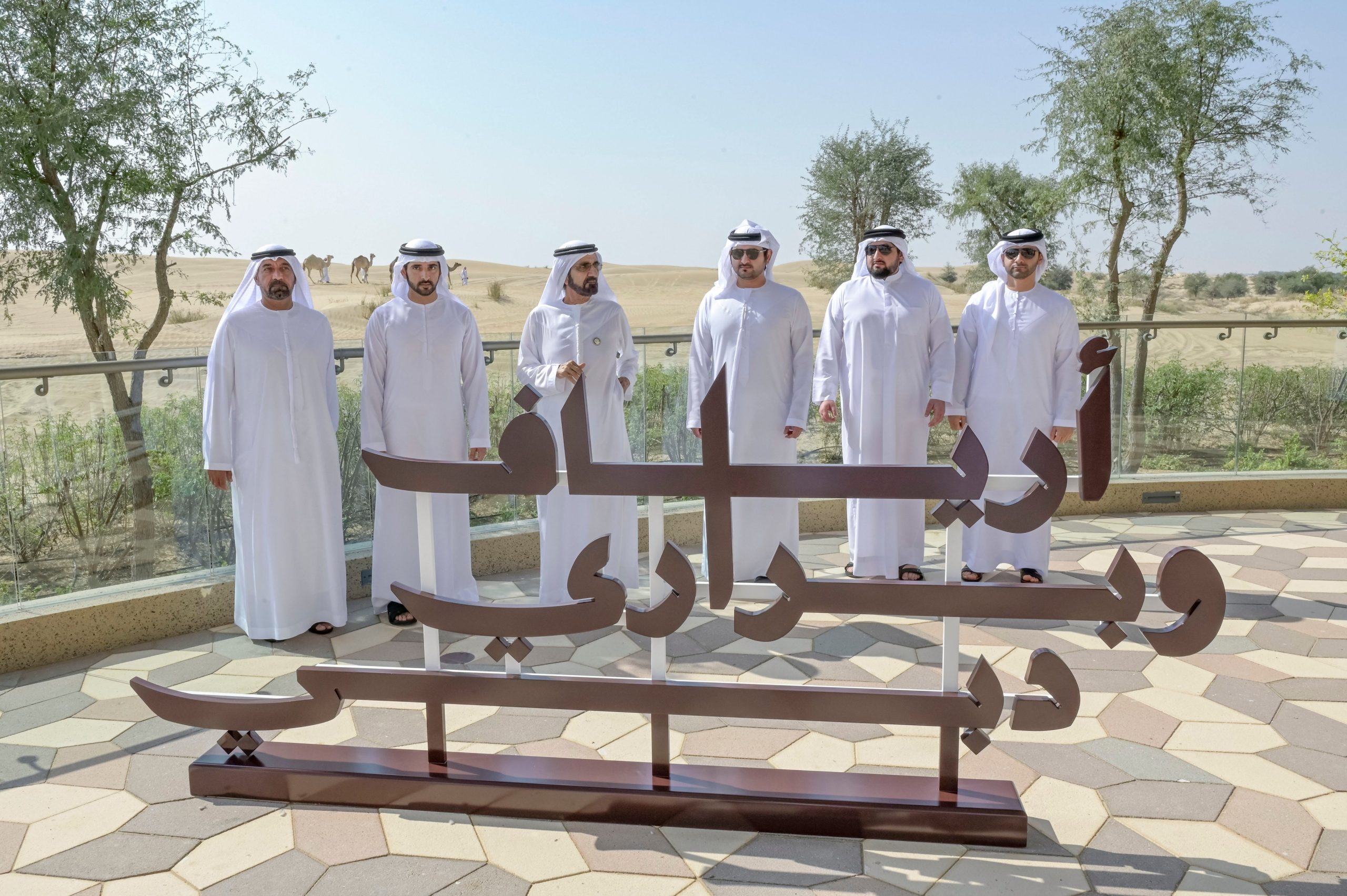 The plan covers a total area of 2,216 square kilometers, with the goals of preserving the natural environments of places like Lehbab, Margham, Al Marmoom, Al Lisaili, Al Faqaa, and Al Aweer, and also of offering a wide range of services and amenities to the local population and tourists. Because of this, each neighborhood in the emirate will become a popular tourist attraction.
According to the Dubai Media Office, Sheikh Mohammed also approved a slew of initiatives and projects to aid in the growth of Dubai's rural and suburban communities. The initiatives will work to save parks and historic areas, promote farmers and regional fare, and open up business opportunities for locals. Both the implementation and regulation of the projects will fall under the purview of the Supreme Committee for Urban Planning.
During his stop to the Saih Al Salam Dunes Platform, Sheikh Mohammed gave his blessing to the proposal. He said, "We have issued directions to ensure the Dubai Countryside and Rural Areas Development Master Plan generates immediate economic rewards for the people dwelling in these areas. Now more than ever, Dubai stands out as one of the world's most stunning metropolises. We're also working to make Dubai's outlying regions as picturesque and enjoyable as the city itself.
Sheikh Mohammed was accompanied by the Crown Prince of Dubai and Chairman of The Executive Council of Dubai, Sheikh Hamdan bin Mohammed bin Rashid Al Maktoum, and the Deputy Ruler of Dubai, Deputy Prime Minister, and Minister of Finance of the UAE, Sheikh Maktoum bin Mohammed bin Rashid Al Maktoum, as reported by the Dubai Media Office. In keeping with the Dubai Urban Plan 2040, the Dubai Countryside and Rural Areas Development Master Plan will serve as a long-term blueprint for the next two decades.
In order to facilitate easier movement across the city, the master plan seeks to enhance the effectiveness of public facilities and services for residents and visitors alike, as well as to provide public parks and traffic solutions. In addition, the plan calls for the establishment of bicycle and scooter lanes at major stations and direct bus service to and from these regions. Additionally, Sheikh Mohammed gave his blessing to the construction of the 100-kilometer-long Saih Al Salam Scenic Route (Route 1). The project will be constructed using the Scenic Route idea, and it will contain amenities to create a well-rounded vacation spot. The purpose is to expand the availability of desert tourism-related events, activities, and services.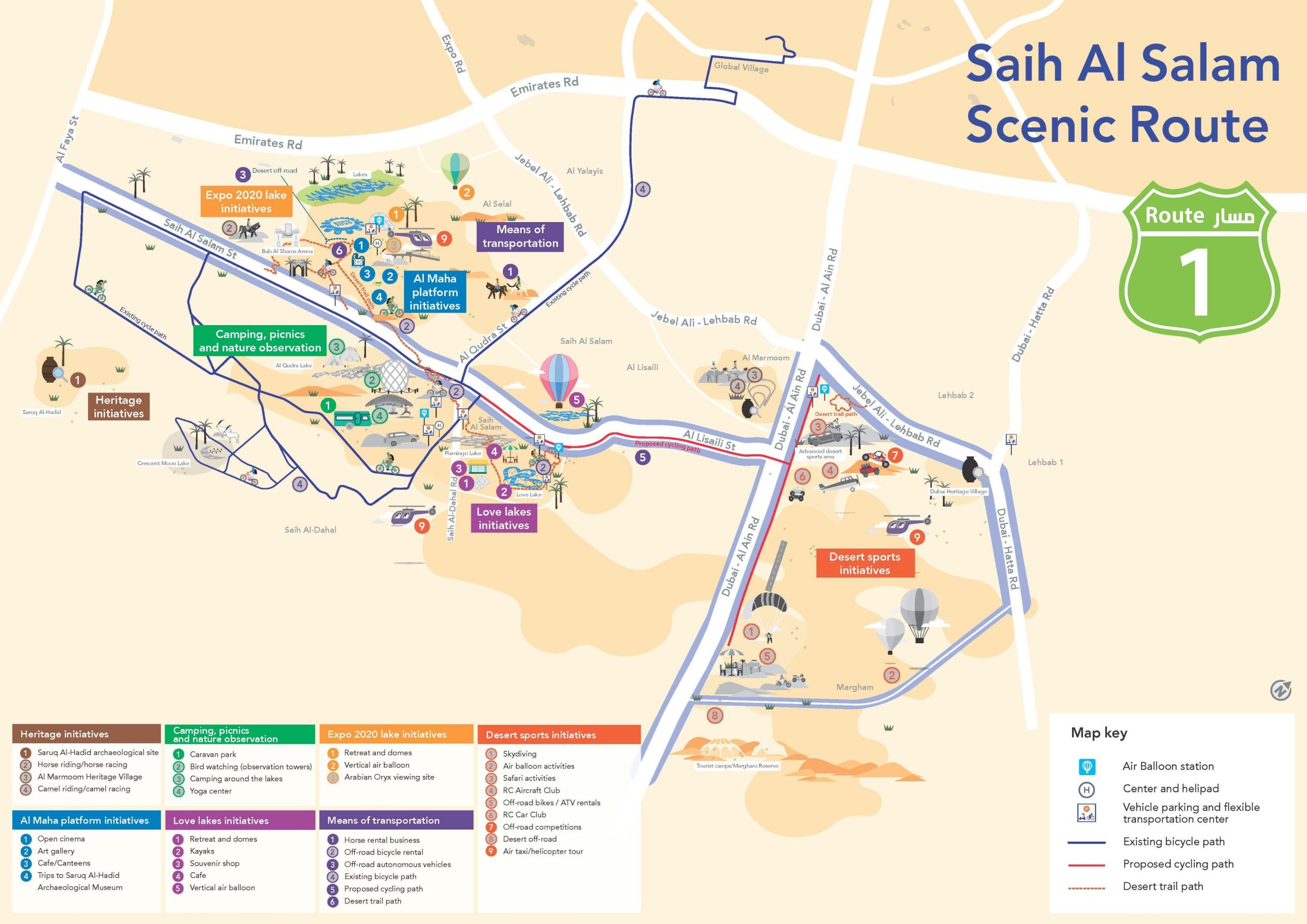 Other projects and initiatives are also part of the Route 1 plan, such as accommodation and service provision for travelers, excursions to historical places like Saruq Al-Hadid and Al Marmoom Heritage Village, and opportunities to engage in activities like horseback riding and desert hikes. Camps and lodges in the shape of glass domes with panoramic windows will be constructed as part of the project, along with open lounges so that guests may take in the scenery of the surrounding lakes. As part of the project, we'll be setting up vertical balloons so that people can have a bird's-eye perspective of the lakes and capture photographs from up high. There will also be gift stores, cafes, and kayaks to choose from.
With their Open Cinema project, the Saih Al Salam Scenic Route 1 Project will also feature an outdoor cinema experience for visitors. Additionally, a caravan park complete with the necessary utilities and infrastructure to accommodate mobile homes will be built. Skydiving, hot air balloon rides, safari outings, and a club for radio-controlled airplanes and automobiles are just a few of the sporting programs incorporated into the project. It will connect the existing cycling track at Al Qudra and Saih Al Salam with tourist attractions and leisure areas, and it will be the first dedicated path for desert means, bicycles, and desert electric scooters.
As an added bonus, the project will feature a desert station for sandboarding and desert driving, among other amenities, to guarantee that guests may participate in a wide range of exciting sports while being exposed to a really unforgettable adventure. As an added bonus, helicopter tours will be available so that visitors may see the landscape from above.