Asset Management and Investment
Dubai is one of the prime destinations for investments in properties. When it comes to buying a property in Dubai there are multiple options available for potential investors. In fact, the Government of Dubai has been at the forefront of developing high-end properties and promoting their sale of them by offering permanent residency visas.
Investment in Dubai property by a citizen of a foreign country is considered to be a safe bet compared to other investments in addition to a recurring income generation. A potential investor can invest any amount starting from INR 10 million. There are several income-generating properties available for potential investors to invest in Dubai at a price range starting from INR 10 million.
According to the report on completed buildings by the Dubai government, the total sales in terms of numbers during the year 2021 is 60,922. In terms of value the total sales in U.S. dollars is approximately 41,000 million. An investor can choose multiple types of properties such as one-story buildings, multi-story buildings, and private villas investment villas in addition to apartment flats.
One of the key drivers for investment in the Dubai property market is the world-class infrastructure coupled with peaceful living and a high level of personal security. Furthermore, Dubai is centrally located and one can reach across various locations including GCC countries and us, and Europe.
If an investor wants to relocate and make Dubai their home country, he or she can enjoy several facilities such as top schools, colleges, hospitals, etc.
According to one estimate, an investor can enjoy an 18% rental yield and 20% IRR on their investments.
According to several sources Dubai housing market was among the top performers in 2021, faster than most other global markets in the world. Dubai also achieved a top spot in rental income with an average of 25% yield which is more than the estimated yield of 18%.
According to a report by JLL,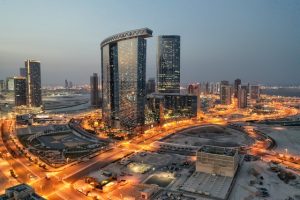 Over 2021, approximately 138,000 sq. m. and 15,000 sq.m. of office space were completed in Dubai and Abu Dhabi, respectively. As a result, the total stock in the former city climbed to 9.1 million sq. m. and reached 3.9 million sq.m. in the latter. Although some Grade-A office space was delivered in free zone locations in H1, the majority of new projects completed last year comprised Grade-B developments. In 2022, around 70,000 sq. m. of office floorspace is expected to come online in Dubai and over128,000 sq. m. in the capital.
Following several months of muted activity, the office market in the UAE displayed signs of a recovery in Q4-2021. In Dubai's Central Business District (CBD), improving demand for good quality office stock combined with relatively limited supply in this segment translated into Grade-A rents increasing by 2% year-on-year to an average of AED 1,712 per sq. m. per annum. On the same basis, Grade-A rents in Abu Dhabi also rose – by 5% to an average of AED 1,650 per sq. m. per annum.
In addition, the availability of office space continued to edge down in both cities. Vacancy rates for Dubai and Abu Dhabi reached 19% and 26%, respectively, in the final quarter of last year.
Over the same period, inquiries were strongest from financial, legal, and technology firms. Furthermore, pandemic-induced uncertainty about future business conditions and changes in employee preferences have underpinned a surge in enquiries for flexible space options such as serviced business centres.
Occupiers have also expressed interest in good quality fitted office space in an effort to minimize capital expenditure due to constrained budgets.
Dubai's residential stock reached 639,000 units at the end of 2021 as over 40,000 units were completed over the course of the year. This was a little below the number (nearly 42,000) built in 2020. In Abu Dhabi, approximately 7,000 units were delivered last year – bringing the capital's total stock to 273,000.
In both Dubai and Abu Dhabi, a "race for space" and the relative affordability of villas & townhouses during the depths of the pandemic helped to stimulate the strong recovery in sales prices – a trend which extended into Q4-2021. Waterfront developments in Dubai, as well as villa projects in Abu Dhabi – particularly on Saadiyat Island and Yas Island – have experienced solid demand from investors and end-users alike.
In annual terms, average residential sales prices were up 9% and 6% in Dubai and Abu Dhabi, respectively, in December 2021.
At MIA, there is a dedicated team that will assist in understanding the client's requirements, placing before them suitable options, and helping them in their investment goals.
Learn More About What We Do Under Asset Management and Investment​